Q: Should the UK remain in, part of, or be out of the E.U altogether?
European Union anyone? Look – I probably should not use a forum like this to try an influence people politically, and I'm not one to speak my mind too often when it comes to politics as I think it's rather a fool's game these days with very few people of real integrity involved – I just don't want to waste time.
I believe it's simply not possible to reach any great height in politics and hang on to your morals any more – there is too much money involved. It's the reason I don't want Ben Carson – the great Christian neurosurgeon to become US president – he will have to compromise his faith – there is no way round it as the earthly powers that be are to big for humble men like Ben. Sooner or later he will have to give in to something he wished he didn't.
But when it comes to the EU and the UK and should we be in or out?.. there are some things greater than the financial aspects that worry me. It's not just all the politicians on the EU gravy train that often speak from both sides of their mouths that make me feel physically ill whenever I see them. You know, the type that always pop up on time to speak on moral issues – right after they've sent our young men and women to fight and be maimed and die in pointless financially driven wars all about dividing and ruling, oil and power.
Can a bad tree bear good fruit?
No, the problem is far more than a monetary one as I see it. So let's ignore what the negative financial aspects of leaving the E.U. might be for a minute which everyone is relentlessly harping on about, and ask two more important questions;
What good could it possibly do the UK and Christians for that matter, medium or long term to be ruled by a socialist organisation, with unelected leaders that rule from a building that not only is modelled on the Tower of Babel – the tower that God was so offended by that He caused the people that built it to be split up so that the inhabitants of Babylon were not able to achieve their dream – namely a world without God, with themselves in place of God. And secondly – what Christian would want to join in union with an organisation, that has as one of its' many Godless ideas and emblems of all things – a woman riding on a beast outside its building – straight out of the book of Revelations?
Is this for real?
I for one would not dare to use such symbols in any place of power even if I was an atheist unable to disprove God's existence – or even if it was just an architects' imagination running away with himself and has no real hidden meaning – is this something we should become part of? Meaning or no meaning – the symbols here are in my opinion two fingers to God, and at best shows a complete lack of disrespect towards Him. So now, if the EU has shown it has no respect for the immortal God by allowing these monstrosities to be erected at its' headquarters, what makes anyone think the European parliament will have one iota of respect for any mortal being, let alone country, other than paying lip service and offering them sweeteners just as long as it takes to get us where they want us – under their thumb? And what does the Bible call our adversary?.. "he who weakens the nations."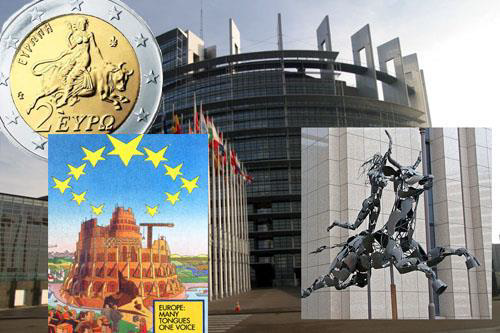 It would appear the EU is following it's socialist agenda to the T by taking from the richer states and giving it to the poorer states – with the political corruption that got these countries into the state they are in in the first place not even given a thought, as if their problems can be corrected simply by shifting money from one state to another (even though The Bible is crystal clear that it is us as individuals people that are to support the poor with tithes and offerings and service, and not a the job of any third party to take it upon themselves to take it from one group and give it to another by force, under the guise of 'making us more equal' in true George Orwell style).
Notice, it is big businessmen and politicians with ties to Europe that want to stay in to line their – not our pockets
The Bible says "you cannot be slave to two masters" so anyone that thinks we can be ruled by both ourselves and Brussels in a kind of power sharing agreement is kidding themselves. And for what it's worth, like her or not, it has come to light that we were lied to when we were told by pro-EU propagandists that Margaret Thatcher did in fact want to be in the EU – when actually a handwritten letter from her has surfaced that says categorically she did not support being in the EU but only trading with it.
So we really need to forget the financial implications and threats of trade deals being blocked that are being spat on us by the EU and its' supporters because the EU is a bad tree and therefore cannot bear good fruit – period, and in the end will undermine and weaken us and every other nation blinded enough by its' own sin and indifference to God to sign up regardless of them being in or out.
So what are the financial implications?
If the financial implication are your concern – and they are not mine – let's cut to the chase. The EU is openly socialist, and therefore it is as plain as your nose that it must spread the wealth around to be so, meaning we and any other nations that join cannot possibly hope to be better off long term, but only get poorer. But as I keep saying – the money is not the real problem – it is the atheistic and Godless and therefore ultimately fruitless ideals behind the EU that we must oppose and unbind ourselves from and cling to God if we hope to prosper financially and otherwise.
---
The European Union – the truth